Історико-теоретичні передумови дослідження музичної поетики камерно-вокальних творів М. Мусоргського.
Historical and theoretical prerequisites for the study of musical poetics of chamber music by M. Musorgsky
Liu Nan

Одеська національна музична академія імені А. В. Нежданової.
Ключові слова:
Ключові слова: поетика, музична поетика, музична риторика, стиль, мову, форма, М. Мусоргський.
Анотація
Мета статті полягає в історико-теоретичному осмисленні вираження «музична поетика» і підготовці даних, необхідних для розробки наукового апарату дисертаційного дослідження музичної поетики камерно-вокальної творчості Модеста Мусоргського. Наукова новизна: Ставиться теоретична задача надання виразу «музична поетика» характеру наукового терміна. Методологію складає аналітичний та джерелознавчий підходи. Висновки. Встановлюється, що Музична поетика - словесне вираження, яке здавна ввійшло в європейську літературу про музику. Його значення і сфери застосування змінювалися протягом багатьох століть. У становленні теоретичних уявлень про музичну поетику виділяються чотири етапи: «античний» (V ст. до н.е. – XVI ст. н.е.), «риторичне» (XVII-XVIII ст.), «неориторичний» (початок ХХ століття), «сучасний» (з середини ХІХ ст.). У сучасному уживанні вираз «музична поетика» застосовується як у відношенні до закономірностей музичної творчості, так і стосовно їх теоретичної та технологічної експлікації. Воно трактується як загальна теорія музики (музичної мови, форми, стилю), або як сума принципів звуковисотної, ритмічної, синтаксичної, композиційної та іншої організації музичної мови тощо. 
Ключові слова: поетика, музична поетика, музична риторика, стиль, мову, форма, М. Мусоргський.
Посилання
1. Abdokov, Yu.(2009.) Musical poetics of choreography: plastic interpretation of music in choreographic art. Doctor's thesis, Moscow [in Russian].
2. Asafiev, B. (Igor Glebov) (1932). Musical and aesthetic views of Mussorgsky. M.P. Mussorgsky. On the fiftieth anniversary of the day of his death. 1881-1931.Ed. Y. Keldysh and V. Yakovlev. Moscow: Gos. Muses. Izd-vo, P. 33-56 [in Russian].
3. Baikieva, R. (2010). The hero as a category of musical poetics in plays of children's piano repertoire. Candidate's thesis. Moscow: State University. culture and arts. Ufa[in Russian].
4. Belichenko, N.(1992)Structural poetics of a musical work (based on the music of contemporary composers of the 80's). Candidate's thesis. Moscow: [in Russian].
5. Van Te. (2008) A phenomenon of national style in the context of operatic musical poetics. Extended abstract of candidate's thesis. Odessa: state muse acad. A.V.Nezhdanova [in Ukrainian].
6. Vahraniev, Yu.(1994)Performance of music (poetics). Kharkiv: Kharkov Institute os arts name of I.P. Kotlyarevsky [in Russian].
7. Gulyanitskaya, N.(2002) Poetics of the musical composition. Theoretical aspects of Russian spiritual music of the XX century. M.: Languages of Slavic Cultures, URL: http://www.iprbookshop.ru/15124.html [in Russian].
8. Ancient Greek-Russian dictionary (1958). Sost I. Dvoretsky. M.: Gos. Foreign and national dictionaries. 1958. T. 2. [in Russian].
9. Zavyalova, O. (2012). Musical poetry of cello sonatas Y. Ishchenko. Scientific herald of the P. Tchaikovsky National Music Academy of Ukraine: K., Issue 94: Yuri Ischenko and contemporary music space. Pp. 145 - 163 [in Ukrainian].
10. Korykhalova, N.(1979), Interpretation of music: theoretical problems of musical performance and critical analysis of their development in modern bourgeois aesthetics. L .: Music [in Russian].
11. Liu Nan. (2017) Features of poetics and the problem of interpretation of the vocal cycle of Modest Mussorgsky's "Songs and Dances of Death." Traditions and Innovations in the Arts Archives and Artistic Designs Kharkiv: Kharkiv State Academic Design and Society, Issue. 3. P. 92-100 [in Russian].
12. Moskalenko, V. (1994).Creative aspect of musical interpretation (To the problem of analysis). C: Min. cult. Ukrainy, KGC [in Russian].
13. Mukha, A. (1979). The process of composer creativity. (Problems and ways of research). K .: Myzychnz Ukraina [in Russian].
14. Ogolevets, A.(1966) Vocal drama by Mussorgsky. M.: Music [in Russian].
15. Polishchuk, A.(2013) The concept of "poetics" in the context of musicology. Scientific Herald of the National Music Academy of Ukraine named after Pyotr I. Tchaikovsky. K.: NMAU after P. I. Tchaikovsky,. issue 105. On musical history tables: Ukrainian music and cultural process. In honor of Marianne Davydovna Copy. Pp. 154-165 [in Ukrainian].
16. Pyaskovsky, I.(1987) Logic of Musical Thinking. Kiev: Muzychna Ukraine, [in Russian].
17. Trembovelsky, E. (2010). Style of Mussorgsky. Harmony, harmony, warehouse. M.: OOO Publishing House "Composer", [in Russian].
18. Tyshko, S. (1993). The problem of national style in the Russian opera. Glinka, Mussorgsky, Rimsky-Korsakov. K.: EP "Muzinform" [in Russian].
19. Kholopova, V. (1994). Music as a form of art. Moscow: Scientific and Creative Center "Conservatory", 1994. [in Russian].
20. Khubov, G. (1969). Mussorgsky. M.: Music [in Russian].
21. Cherednichenko, T. (1982) Aesthetics musical. The musical encyclopedia. In 6 vols. M: Sovetskaya encyclopedia, 1982. - Vol 6. URL: http://enc-dic.com/enc_music/JEstetika-Muzykalnaja-8406.html [in Russian].
22.Burmeister, J, and Benito V. Rivera (1993). Musical Poetics. Yale University Press, JSTOR, URL: www.jstor.org/stable/j.ctt32bsq9. [in English].
23.Poetics of Music. (2015) The Project. Kings College. London, 2015. URL: https://www.kcl.ac.uk/artshums/depts/music/research/proj/poetics/index.aspx [in English].
24.Stravinsky, I,. & Knodel, A., Dahl, I. (1947). Poetics of Music in the Form of Six Lessons. Translators:. New York: Vintage Books, [in English].
25.The New Grove Dictionary of Music and Musicians. In 20 volumes. Ed. by S. Sadie. London, 1972-1980. [in English].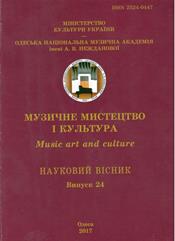 ##submission.howToCite##
Nan, L. (2017). Історико-теоретичні передумови дослідження музичної поетики камерно-вокальних творів М. Мусоргського. Музичне мистецтво і культура, (24), 117-131. https://doi.org/https://doi.org/10.31723/2524-0447-2017-24-117-131
Розділ
ІСТОРІЯ ТА ТЕОРІЯ МУЗИЧНОГО МИСТЕЦТВА І КУЛЬТУРИ